April 20, 2023
BOISE, Idaho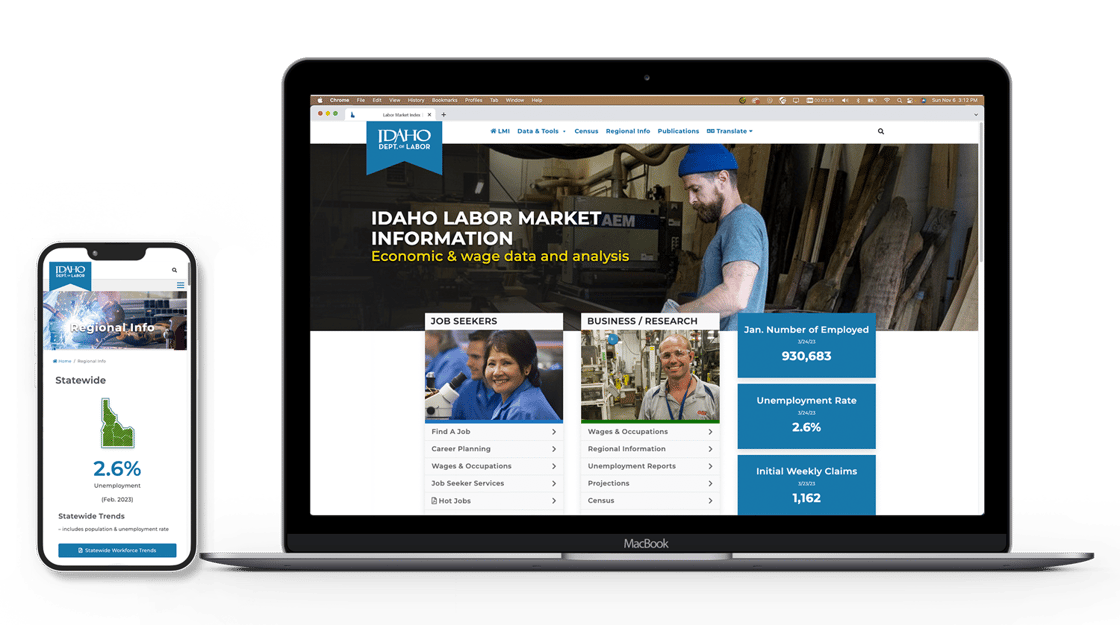 Partner Spotlight: Idaho Department of Labor
The Access Idaho team (Tyler Idaho), in collaboration with Idaho Labor Market Information (LMI), recently launched an updated website (https://lmi.idaho.gov) dedicated to showcasing data that drives good public policy.
The site provides statistics and analysis on wages, jobs, and the state's economy from information compiled by the U.S. Bureau of Labor Statistics, the Census Bureau, and Idaho research analysts. The site is for job seekers looking to understand the average wages for an area of the state. It also helps employers understand workforce trends or financial institutions by researching market trends in employment statistics. If analyzing Idaho's workforce data statistically is your jam, this site is for you.
Learn More About Access Idaho's Web Development Process
---

Solution Spotlight: IDOPL Consumer Protection and Public Safety Enhancement Form  
Working with the Idaho Division of Occupational and Professional Licenses (IDOPL), Access Idaho used its low-code solution to develop and launch an online form to improve consumer protection and enhance public safety.
IDOPL uses the new form to collect and report on issues that need to be addressed among the 204,000 licensees it regulates. On the rare occasion, a citizen has a bad experience with one of the 47 boards or commission licensees, reporting an issue starts here.
Learn More About Access Idaho's Low-Code Solutions
---

Tyler's Contactless Disbursements
Why handle disbursements by check and cash when prepaid and reloadable debit cards are an option?
With Tyler's disbursements-as-a-service platform, this solution allows your agency to make payments, both individually and in bulk, via an electronic payment platform. Recipients of funds can access money online through various claim options, including bank transfers, PayPal, check, charity, gift card, or pre-paid debit card.
Interested in disbursements or other Tyler services and solutions? We'd love to discuss them with you!
Learn More About Tyler's Disbursements Software
We Create Solutions
All services listed above are available under the existing Access Idaho contract, the administrator of Idaho's official Web portal, and the provider of electronic government solutions for the state. The manager for the portal is Idaho Information Consortium, LLC (IIC, LLC), a subsidiary of Tyler Technologies Inc.